THURSDAY, MAY 18, 2023
Aurora Brewing
1897 NY-90, King Ferry
 
---
Join us for the 2022-23 Campaign Celebration along Cayuga Lake! Celebrate with us as we recognize the generosity and support of our donors, volunteers, sponsors, and workplace participants! The event will highlight the many events and fundraisers our Campaign Co-chairs and Campaign Cabinet have hosted this year to help us raise $645,745 that will start going back out to the community this summer. 
Our 'Destination Celebration' brings us down into Southern Cayuga County where we can enjoy some beautiful views of Cayuga Lake and grapevines from Aurora Brewing's covered patio. This event will be outdoors, so check the weather and dress accordingly. In the event of rain, we'll have to get cozy inside. Our fingers are crossed for sunshine and warm temps! 
Aurora Brewing will be open to the public that evening so please be courteous to their other patrons and enjoy celebrating another successful year!
Registration is $5 per guest; includes light snacks and water
Guests are invited to purchase additional food and beer from the tap room. 
REGISTRATION DEADLINE: TUESDAY, MAY 16, 2023
---
CAMPAIGN CELEBRATION AGENDA
3:45pm | Check-in
               If you wish to purchase a beverage or additional food head to the taproom
4:00pm | Find seat or standing space 
4:15pm | Program Begins
5:15pm | Celebration & Mingling
---
More than 1,200 gifts were made to support the 2022-23 United Way of Cayuga County Campaign. In total, we raised $645,745 thanks to the generosity of individuals like you, businesses, foundations, and more.
Of the total raised, $525,000 will be allocated to our 2023-24 Member Agencies. This is an increase of $25,000 from our 2022-23 funding. Our Funding Panelists have completed the application review and presentations with prospective grantees and have submitted their funding recommendations to the United Way Board of Directors for their review and approval.
We would like to thank our Campaign Co-Chairs, Team Nucor, their Campaign Cabinet, our Board of Directors, and Employee Campaign Coordinators for their dedication and commitment to inspiring others to give. Their support, paired with your gifts, have made this a successful campaign. THANK YOU!
---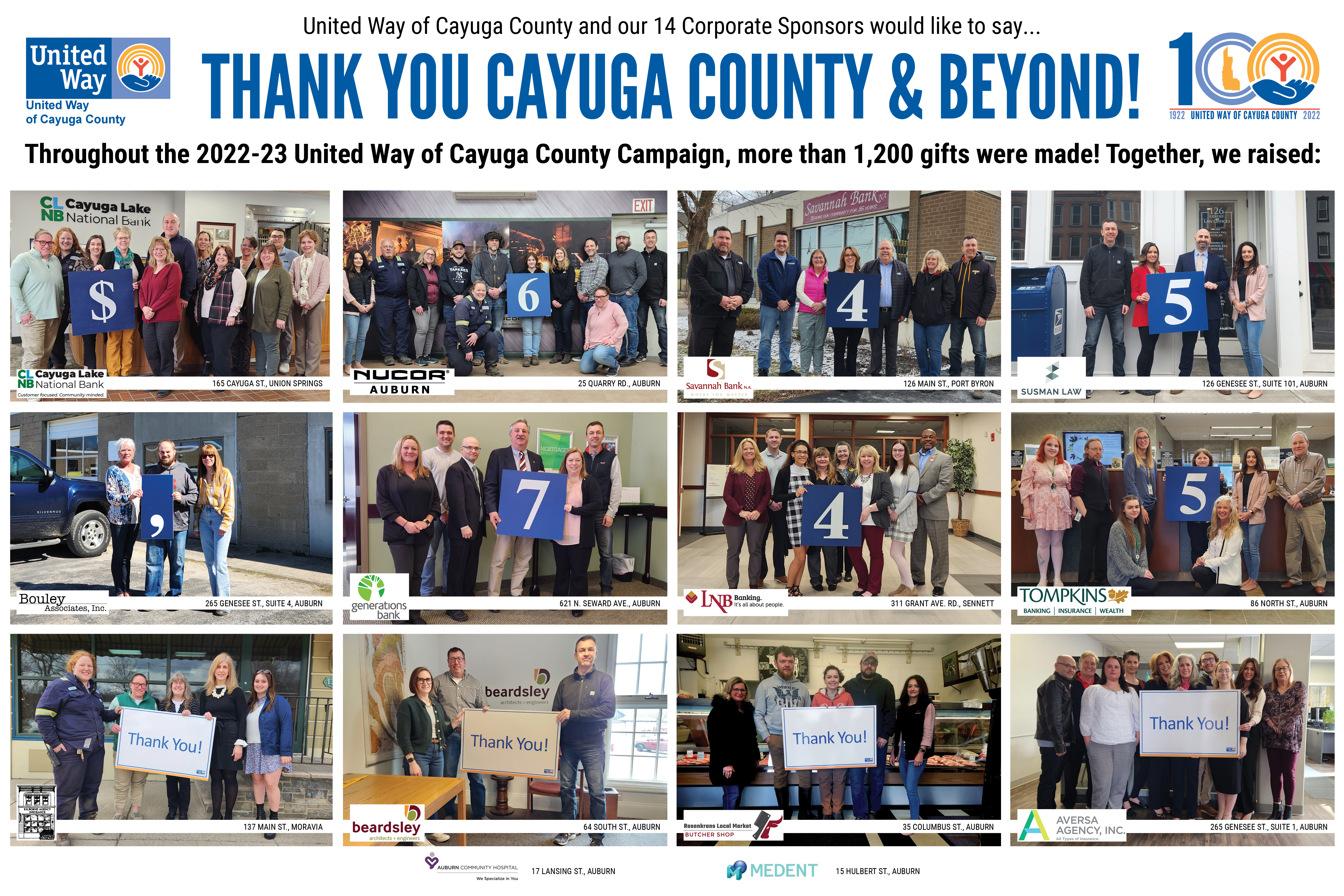 ---
Between the staffing crisis and inflation, 2022 was one of the most difficult years in recent history for fundraisers across the nation. All of us here at the United Way are beyond grateful for the support you were able to give during these difficult times.
As you may recall from our exhibit last fall, Through the Decades: 100 Years of Living United, past support of the United Way has allowed us to establish reserve funds to offset difficult years. Just as we did during some of the worst years of inflation in the 1980's, reserve funds will allow us to keep our agency funding strong for the coming year, despite the significant economic stressors of the last two years.  
Your continued support is critical, and this year has reminded us all of the exponential importance of your long-term support. With our gratitude, thank you for allowing us to always meet our community where they are, when they need it most.